Monthly Archives:
November 2011
When members of Rocky View County, AB Local 4794 participated in a Canadian Breast Cancer Foundation Run for the Cure event October 2, it was with some touching personal stories in mind.
The local's effort was spearheaded by Treasurer Bill Cormack, who lost his mother-in-law, grandmother and aunt to breast cancer. And among the local's 15 participants were father and son fire fighters John and Tim Ross, who lost their wife and mother, Dolores Ross, to the disease in August.
The Local 4794 Run for the Cure team counted 29 members in total, including family and friends, and raised more than $15,000, by far the most among participating IAFF affiliates.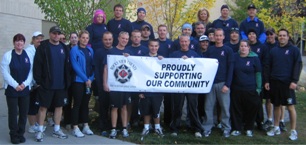 "It became a very special event for the local," says Local President Craig Halifax. "I'm certain it will become one of our premier events and hopefully it will grow every year."
The IAFF has partnered with the Canadian Breast Cancer Foundation (CBCF) to coordinate breast cancer fundraising and awareness efforts in Canada. The next event, the Canadian Breast Cancer Foundation Cook for the Cure, involves dinner parties held as fundraisers anytime during the month of October. The IAFF Canadian Office will send more information about the Cook for the Cure to local presidents and secretaries soon.
Run for the Cure, which is sponsored by the Canadian Imperial Bank of Commerce (CIBC), next takes place on September 30, 2012. The IAFF encourages Canadian locals to consider fielding teams under the IAFF banner. Money raised by IAFF affiliates will be tracked through the Canadian Breast Cancer Foundation web site.
Other Canadian IAFF participation in the Run for the Cure included Spruce Grove, AB Local 3021. The IAFF Canadian Office raised $325. Numerous other Canadian locals are raising funds and awareness for breast cancer through other initiatives, such as pink fire trucks and T-shirts.
Posted in
News
Comments Off