With only one fire station in the rapidly expanding Leduc, Alberta, IAFF Local 4739 fire fighters have long been concerned that it was only a matter of time before disaster struck. And it did. A recent fire severely damaged or destroyed six homes.
Local 4739 fire fighters were dispatched to a neighborhood in the west end of the City, where there is no fire station. After eight minutes, the first responding units finally arrived on the scene to find three homes on fire with flames spreading to a fourth house.
"We do not come close to meeting safe staffing standards," says Leduc Local 4739 President Douglas Britton. "And, as this fire demonstrated, an eight minutes response time is way too much time to go by before starting fire suppression. We are lucky that no one was injured or worse."
By the time fire fighters contained the blaze, four houses were burned to the ground and two others were severely damaged. Other homes had heat damage.
"I can say with confidence that if we had a fire station in the west end, the amount of property loss we saw here would have been far less," says Britton.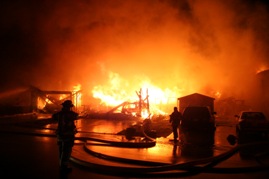 The need for not one, but two additional fire stations in Leduc is not news. Three independent studies – including a Geographic Information System (GIS) analysis conducted by the IAFF – have concluded that one station is needed in the west end and another in the north end of Leduc to keep first response times to four minutes or less.
Still, the Leduc City Council has been hesitant to green light the building of the new firehouses. Council members say one may be built in the west end next spring but a new firehouse in the north end may be as long as five years away.
"This is troubling as there are 11 hotels in the north end and even more are being built," says Britton. "If a fire breaks out there, the risk for high property loss, even fatalities, is huge."